Navigation
External Links
Olefin metathesis polymerization
Nils Hanik Mark Schäfer Amit Nagarkar
Functional Olefin Metathesis Polymer: Methodology development and Application
One of the fundamental requirements in polymer chemistry today is the control of functionality and functionality placement on various size scales ranging from polymer chains to micellar aggregates to self-organized phases in the solid state. Our research addresses different aspects of this requirement, dealing with the placement of functional polymer end-groups and control over the self assembled solid-state phases via post polymerization functionalization of block copolymers. We develop methods for introducing end-groups for living olefin metathesis polymers. Since recent development of very stable and functional group tolerant ruthenium carbine complexes by Grubbs et al., the ring opening metathesis polymerization (ROMP) has received increased attention. However, one major drawback of this living polymerization technique compared to most others was, that it didn't offer a straightforward synthetic method for introducing functional end groups.
We recently developed several ways to overcome this limitation and hydroxyl, thiol, aldehyde and carboxylic acid groups are now available as ROMP end-groups. The technique of "Sacrificial Synthesis" makes use of cyclic olefins that can later on be cleaved to yield the required functionality at the chain end. We are currently interested in the introduction of amine end groups at the polymer chain ends using this strategy. Amines are very useful nucleophiles that can readily be further functionalized by reductive alkylation or amide formation. More complex polymeric architecture or polymer conjugates with functional molecules, oligomers or biomolecules are thus readily accessible.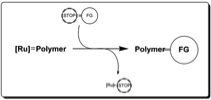 The Synthesis of a universal end-capping reagent is based on functionally substituted vinyl ethers or vinyl esters. Such compounds act as ROMP terminating agents and can be easily synthesised and derivatised. As they carry a readily functionalisable group in addition to a group that forms a non-metathesis active carbene, such compounds are particularly useful for the attachment to surfaces like macroscopic surfaces, nanoparticle surfaces or functional solid supports. Solid surfaces derivatised in this way readily react with polymeric ruthenium carbene such that the polymer block is transferred onto the surface. This result in functionalized macroscopic surfaces, functionalized nanoparticles or, in the case of solid supports, polymer conjugates with the oligomer prepared on the solid support, for example a peptide.
Making use of this functional group tolerance, our research also aims at the synthesis of functionalisable diblock copolymers via ROMP. This can either be achieved by subsequently polymerizing two types of monomers or else via preparing an end-functionalised ROMP polymer that is later on attached to a second polymer chain via its end-group. The second approach heavily relies on end-functionalisation methodology already developed in our group. Due to their amphiphilic character, these diblock copolymers will be microphase segregating, adopting the well-known solid state morphologies depending on the volume fraction of the individual blocks. One of the blocks will, however, carry functionalities that can be derivatised in a subsequent reaction with a broad variety of volume modifying agents of variable chain lengths.

This allows a tunable post polymerization volume fraction alteration and hence the possibility to change position in the phase diagram in a controlled manner. Furthermore, reproducibility is given by the covalent attachment of the side chains, in contrast to mixing the diblock copolymer with certain amounts of one homopolymer to increase its volume fraction. This covalent approach will be particularly useful for targeting "difficult phases" such as the gyroid which takes up only a small area in the phase diagram.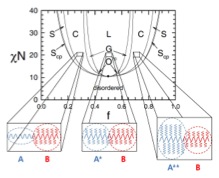 Sequence controlled aramides
Maren Schulze Christof Storz
Substituted oligo(p-benzamide)s as novel building blocks for nanoscopic objects.
Aromatic oligoamides exhibit exceptional mechanical and chemical properties, among which oligo(p-benzamide)s are of particular interest for our group. Due to their chain-stiffness, shape-persistence and ability of hydrogen bond formation they are highly interesting tools for the construction of nanoscopic objects. However, they show a strong aggregation tendency and low solubility in organic solvents, which complicates the synthesis in solution. One approach to overcome this disadvantage was the development of an automated solid supported synthesis on a peptide synthesizer, a second one the modification of oligo(p-benzamide)s with flexible side chains. Using automated solid phase synthesis as a method to well-defined oligomers not only bears the possibility of sequence control but also provides monodisperse products, which is a crucial point in the synthesis of oligomers and polymers. Compared to organic compounds, macromolecules usually show less defined molecular structures, but possess tunable chemical properties enabling the use in innumerable applications. In recent years, it got more and more difficult to draw a line between organic and macromolecular chemistry since the combination of both offers diverse synthetic strategies to new, exciting structures.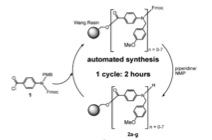 We could show that commercial peptide synthesisers can be successfully employed in high yielding syntheses of oligo(p-benzamide)s. In initial investigations we employed monomer building blocks in which the aromatic amines were protected with p-methoxybenzyl-protecting groups. This increased the solubility of the oligomers. The solid supported synthesis could later be improved so that even non-protected oligomers could be prepared. This approach enabled us to synthesize homo- and heterosequences based on 4-aminosalicylic acid monomers. Solubility and aggregation behavior of hexyloxy- and triethyleneglycol-substituted oligo- and poly(p-benzamide)s have been investigated. While already hexyloxy-substituted tetramer is insoluble in organic solvents and shows strong aggregation tendency, TEG-substituted polymer exhibits excellent solubility even in non-polar organic solvents such as chloroform.

However, it forms large aggregates as evidenced by TEM. We therefore designed a new monomer which carries a terminal alkyne. This can easily be derivatized by alkyl azides in a Cu-catalysed 1,3-dipolar cycloaddition (click reaction). In order to prevent aggregation via π-interactions, we introduced sterically demanding Fréchet-dendron azides of first (G1) and second (G2) generation to our amino acid monomer structure. We believe that combinations of these monomers will allow us to synthesize non-aggregating, organo-soluble polymers which can carry functional groups. Current investigations are aiming at new oligomeric shape-persistent rods to be used for the design of novel supramolecular structures.