About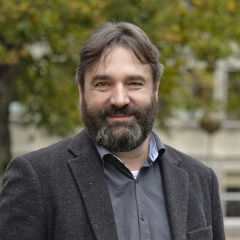 Hello! My name is Serge K. Keller, FCD, and I'm a scientific and technical journalist, a freelance writer and translator, a graphic designer and desktop publisher, and a webmaster. In other words, I'm a wordsmith and a pixel craftsman — but I'm also a printer of electrons and a web scientist.
I'm a former biologist as well, and used to be a zoo keeper; to this day I've kept a strong interest in natural sciences and I remain a staunch, bearded Darwin groupie.
In my free time, I direct some amateur theatre plays or will occasionally play on stage myself. Photography, bicycle touring, cinema and lots of reading (does the term tsundoku ring a bell?) also count amongst my favourite past-times.
I currently live in Fribourg (the Swiss one), a very nice bilingual city (French/German), but grew up in the Italian-speaking region of Switzerland. And I love to travel whenever I get the opportunity!
Memberships and affiliations
Journalistic and media organisations

Scientific and nature conservation organisations

Standards and digital rights organisations

Other organisations and societies
Contact
If you wish to contact me, I can understand French, Italian, English and German: your choice!
E-mail

Phone

+41 (0)26 300 7013

Address

Bureau 4110
Unicom - Communication et médias
Université de Fribourg
Avenue de l'Europe 20
CH - 1700 Fribourg

Website